As of 1st February 2005, PPS has nearly 80 active members,
and the number is steadily increasing - some of those members live outside the UK,
and we welcome anyone wherever you are in the world!

A year's membership entitles a member to the following,
with hopefully bonuses along the way!


Below is a sample of the membership materials, including one of the magazine back issues
and the cover of one of PPS' own exclusive video interviews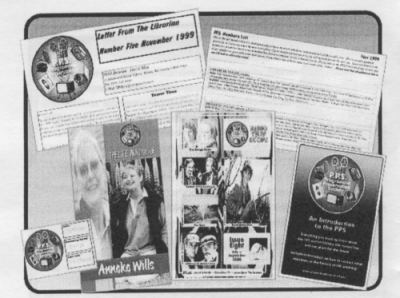 NEW MEMBERSHIP MATERIALS!
An updated starter pack containing an introduction and further background to the society, what we have done to date and what we would like to do in the future, together with a collectors guide and membership card.

Now updated from quarterly issues to bi-monthly - you will receive SIX issues of the society's magazine, Radio TellyScope a year, for which contributions are always welcome.

A full list of fellow members with details of their collections, as sent to us to enable you to find people with the same interests as you for correspondance and swapping purposes. Further updates will be sent to members during the course of the membership period.



New membership rates as of 1st February 2005!
It is with great reluctance that after keeping the price of membership
the same for four years, with rising postage costs we now
have to raise the membership fees.

With effect from this date, the new fees are as follows:
£13 to UK residents and £17 to overseas members.
To join, please write to the Treasurer - click here for his address.
Please mention that you are joining after visiting this website
so we know how you heard about PPS.
Currently, we are unable to accept payment over the Internet,
although we hope to have subscriptions available by PayPal as soon as possible.

Please send any payment by cheque, postal order or International Money Order
in Pounds Sterling